Record Breaking Crowd Fills the Chase Center for Cancer Research
2020 LRFDE Black Tie Gala takes an emotional turn
The Leukemia Research Foundation of Delaware Black Tie Committee thought they had maxed out the ballroom of the chase center during their 2019 event. However, as sponsorships for the 2020 LRFDE Black Tie Gala piled in, they knew they were planning for a record-breaking year. During months of preparation, Executive Director Denni Ferrara switched the layout of the ballroom to accommodate an astonishing 600 plus guests at the 2020 LRFDE Black Tie held on Friday, February 14.
"A Night Under the Big Top", proudly presented by Apex Piping Systems, drew not only an outstanding number of guests, it generated the largest amount of funding for blood cancer research the event had ever seen in its thirteen-year history.
As executives and guests from some of the most prominent businesses in the tri-state area funneled in, they were met with full size carnival games, a custom made vintage ticket booth, massive 36inch balloons hung from the ceiling, and an array of other vintage themed decor courtesy of honorary lifetime sponsor Cassidy Painting, Inc. With almost 300 silent auction items ranging from an all-inclusive trip to Disney Resorts, to a small wine package, guests enjoyed appetizers, cocktails, and networking while browsing items.
Upon entry into the ballroom, the program began with a prayer from Rev. Samuel Lathem, longtime friend of the Leukemia Research Foundation of Delaware. As guests joined hands, Rev. Lathem's prayer was tailored to holding hope for one of the foundations members who serves on the Board of Directors, Donald Yanick, who had just completed his fourth stem cell transplant in Little Rock, Arkansas. Although guests were unaware, the black-tie gala committee planned to show a video featuring Mr. Yanick that was filmed the day prior to his departure for treatment. But what happened next was far more memorable than anything that could be captured through film…
Unbeknownst to Rev. Lathem, the guests, and Mr. Yanick's three children who were seated in the audience, Mr. Yanick and his wife Karen stood behind the stage during the prayer. Donald and Karen arrived at the Chase Center only a few moments prior to the start of the program (after flying home from Little Rock that afternoon) and were brought in through a back entrance to not only to surprise the room but to protect Dons suppressed immune system. Mr. Yanick has never missed the annual LRFDE Gala since its inaugural event in 2007.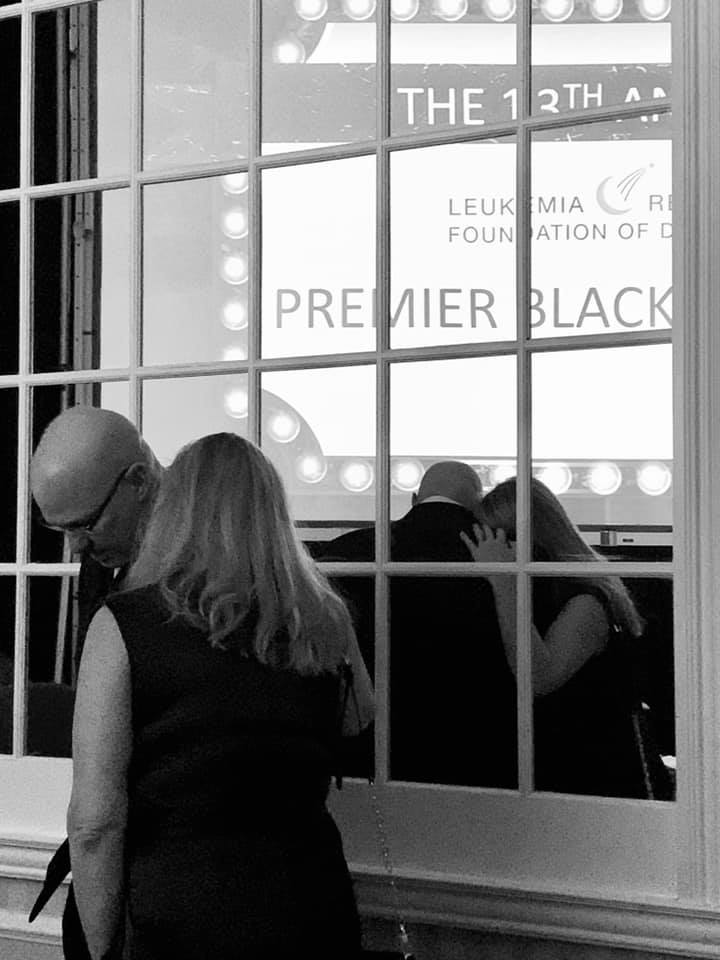 As Mr. Yanick and his wife remained behind stage, Mrs. Denni Ferrara spoke of the emotional toll a cancer diagnosis brings to a family by speaking candidly about her experiences during her daughter's treatment in 1998. Mrs. Ferrara also reiterated the importance of community and of research. Then, in an emotional entry that was followed by a standing ovation, a weak bodied but strong spirited Don Yanick came to the stage. Don spoke about his gratitude for community, prayer, and for the research being done within the field of oncology. The Yanick's children then met them on stage in what was an emotional public reunion of a family that hadn't been together in over a month. The 600 plus cloth napkins at each place setting were used by guests to wipe away tears before they were ever used for their three-course meal.
The evening continued with dinner, signature drinks, dancing, and a live auction. The top sponsors were also recognized for their ongoing dedication to blood cancer research. These top sponsors included Presenting Sponsor Apex Piping Systems, Honorary Lifetime Sponsor Cassidy Painting Inc., Platinum Sponsors, Schagrin Gas Company, SB Real Estate, Diamond State Recycling Corporation, Cirillo Brothers Inc., Greggo and Ferrara Inc., and Frightland. As well as Gold Sponsors, Advanced Pavement Group, Ferris Home Improvements, Foley CAT, Keen Compressed Gas Company, Martin Marietta, Platinum Dining Group, and WSFS Bank.
The Leukemia Research Foundation of Delaware's Black-Tie Gala is the foundations signature event, held in February of every year. One hundred percent of the proceeds go directly to cutting-edge cancer research which continues to have a national and global impact on the field of oncology as well as a personal impact for people like Mr. Yanick.
For more information on the LRFDE and their signature events, please click the Events tab on the homepage of www.lrfde.com
Tags: Black Tie Gala, Cancer