News
13th Annual Premier Black Tie Gala  – February 14, 2020
Event Location:
When:
Friday, February 14th at 6:30pm
---
Event Location:
Frightland: click here for directions
When:
Delaware Mud Run Jr: June, 2020
Delaware Mud Run: June, 2020
Learn More
---
Why I support Nemours
A note from Denni Ferrara, President of the Leukemia Research Foundation of Delaware
The Leukemia Research Foundation of Delaware is devoted to finding cures for childhood cancer. Because our volunteer team gives so much time and energy and because the cause is so critical, it is important to know that our grants make a difference. We have found a perfect partner in Nemours.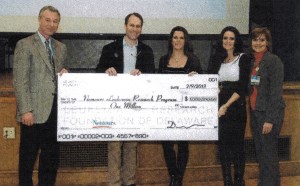 The Nemours Center for Cancer and Blood Disorder (NCCBD) is a collaborative national leader in childhood cancer research. Dr. Andy Kolb, director of NCCBD, plays multiple roles in the Children's Oncology Group, a clinical trials group support by the National Cancer Institute. Dr. Kolb's national perspective and hands-on clinical knowledge give him incredible insight on research opportunities and priorities. We are proud that our investment at Nemours has fostered collaboration and helped leverage additional grants. We also value the fact that Nemours uses 100 percent of our grants for research without applying administrative fees. In 2015, our support funded groundbreaking advances in genomic research, which is critical to the fight against childhood leukemia. We are pleased and proud to be working with Nemours to help children facing cancer.