LRFDE's Black Tie Gala 2016 Photos
Leukemia Research Foundation of Delaware's Black Tie Gala 2016 Photos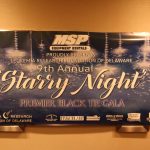 Leukemia Research Foundation of Delaware's 2016 Black Tie Gala 'Starry Night' was a rousing success. Once again we were able to raise money to continue helping researchers work towards a cure for leukemia. That special night gets us closer to our goal of giving a third and fourth $1 million grant to Leukemia researchers.

The photos are in and they are even more amazing then we expected. Ben Fournier Photography did a wonderful job capturing the fun spirit of the evening, taking photos of guests as they walked in, dancing throughout the night, and the awards that we gave out. 

The event, held on February 26, 2016 this year, joins the Delaware Mud Run, the Delaware Mud Run, Jr. and other events that we hold throughout the year to aid in our goal. Check out a selection of photos in our gallery below. 

To view the entire collection of photos and make purchases visit the Ben Fournier Photography page.