Cassidy Painting & Schagrin Gas vow to get #muddy4acure!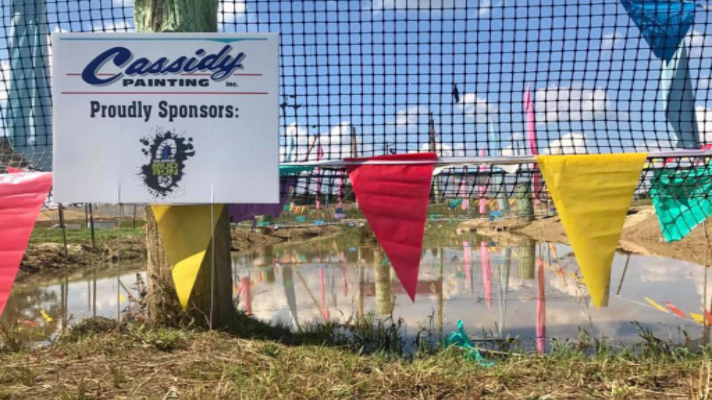 Our dedicated sponsor since the founding of LRFDE, Cassidy Painting, has graciously donated $25,000 to support the 2018 Delaware Mud Run! Cassidy Painting's donation renders them our Presenting Sponsor for this years event. Their sponsorship aids in supporting our 10th Anniversary Mud Run which will be held Saturday, June 9th, 2018.  
The Cassidy Family and their businesses have supported the Delaware Mud Run for the past 10 years with a Presenting Sponsorship donation EVERY YEAR since the Delaware Mud Run premiered in 2008. Not only are their dollars crucial in funding cancer research and hosting a muddy event, their dedication and selfless contributions to Leukemia Research Foundation of Delaware far exceed monetary value. You can find Lisa, Mike, and their children volunteering before and after the event so that so that participants can get #muddy4acure! 
For over 25 years, Cassidy Painting has provided the East Coast with unmatched quality and customer service within their industry. From high profile commercial buildings to large industrial complexes, their customers come to them when they need reliable, experienced professionals and innovative solutions to meet their individual project needs. Their services include but are not limited to, commercial painting, industrial coatings, fireproofing, sandblasting services, and fleet/automotive refinishing. 
For more information about Cassidy Painting, please visit their website www.cassidypainting.com 
We are also ecstatic to announce that Schagrin Gas is a proud Muddy Sponsor of the Delaware Mud Run! Their donation of $10,000 dollars aids in supporting our 10th Anniversary Mud Run and is another crucial part of funding blood cancer research. Schagrin Gas also donated these custom, colorful, totally awesome, Delaware Mud Run coozies perfect for a cold beverage on a hot June day! 

Schagrin Gas is a family owned and operated business who serves as a leading provider in creating comfortable homes with customized comprehensive services and top-of-the-line equipment. Their products and services include: HVAC, service plans, grills, water conditioning systems, room zone heaters, pool heaters, gas hot water heaters, standby power generators, and fireplaces. 
For more information about Schagrin Gas, please visit their website www.schagringas.com
***Sponsorship opportunities for our 2018 Delaware Mud Run are still available. For more information about sponsorship please visit us at www.delawaremudrun.com and click on "sponsor".